Spruce It Up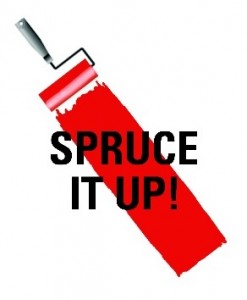 Spruce It Up! is the perfect program for those who have resisted consulting with an interior designer because they thought their job was too small, their budget was too modest, or a designer's services would be too costly. Spruce It Up! offers a client the chance to find out how an interior designer works through an on-site design consultation and helps identify a design direction suited to that client's needs. It is a chance to pick up some ideas to transform a tired interior space, to learn how to avoid costly mistakes, and to maximize the design potential of one's home or business environment.
ASID designers provide one- or two-hour consultations at a cost of $150 per hour. In 2015 proceeds went to Habitat for Humanity. Participants chose which of the 24 participating New Jersey Habitat for Humanities affiliates would receive their consultation fees and wrote their checks directly to their designated Habitat. * This was the second year that Habitat is the beneficiary of this program. In 2014, ASID NJ Chapter raised more than $13,000 for Habitat and looks forward to equal success in 2015.
Spruce It Up! design consultations took place this year from October 1-October 31, 2015. E-mail us at spruceitup@asidnj.org for more details.
Here's what some previous participants had to say:
ASID NJ 2014-15 Chapter President Michael Mariotti, ASID and Hope Sferra, Allied ASID presenting $13,000 in checks to Blair Schleicher Bravo, Chief Operating Officer, Morris, who accepted them on behalf of the NJ Habitat affiliates.
"My consultation was a very enjoyable experience. Our designer gave a complete assessment of my design dilemma, offered several options to solve it and followed through after with a selection of color options and materials. She was a pleasure to work with and I will probably contact her for some follow-up on my current project. "–R.S, Montclair, NJ
"My wife and I were hesitant to work with a designer, probably because we were concerned that a designer would not listen to us. This Spruce It Up program was a great way for us to try the experience. It was a pleasant surprise that the designer was so understanding of our concerns and questions. I thought we might be controlled by the process, but instead this designer made it clear that it was our goals, tastes and desires that directed her advice for us. The two-hour consultation was quite valuable and I would highly recommend this level of expertise from your ASID organization to others."–FB, Monmouth, NJ
"I was at a standstill as to how to fix my room and unsure if it was too small of a project to involve a designer. After my meeting, and consulting with her, I now see I can include the help of a designer in my project, whether is for the whole project or just a portion."–VG, Whippany, NJ
"Our designer was knowledgeable, professional and extremely helpful. He offered some wonderful ideas. My problem now is how to afford all I would like to do! I'm hoping I can engage him in the future. He was terrific and you can/should be proud to have him in your organization."–DH, Wayne, NJ
* Habitat for Humanity is a tax-exempt 501(c)(3) nonprofit organization. Your gift is tax-deductible as allowed by law.